African American Women in the Suffrage Movement
White women and African Americans have often had common political interests, but the alliance of their goals has not always been easy. As the women's suffrage movement gained popularity in the last half of the nineteenth century, African American women were increasingly ignored.
Members of the Texas Federation of Colored Women's Clubs
This organization, which worked for women's suffrage, was founded in 1905.
After the Civil War, women's suffrage supporters organized the American Equal Rights Association (AERA). By 1870, this organization had split into two groups: the National Woman Suffrage Association (NWSA) and the American Woman Suffrage Association (AWSA). In 1890, the AERA and the NWSA united, becoming the National American Woman Suffrage Association (NAWSA), and its members realized that they would gain greater support if they excluded African American women from their organization.
African American Suffragists History Ignored
Racism within the women's rights movement and the pressures exerted, especially by Southerners, to block African American women from participating in the movement produced friction and estrangement. However, these difficulties did not deter black women in their effort to secure the vote. As the movement progressed, white and black women fought among and between themselves over the best course of action.
Sojourner Truth (1797-1883)
Born a slave named Isabella Baumfree in upstate New York, records indicate that she was the first African American to fight for women's right to vote. After her owner emancipated her, she worked menial jobs to support herself. Her strong sense of self and faith in God led her to rename herself 'Sojourner Truth' and become an itinerant preacher. She earned many admirers as she traveled across the Northeast, making speeches in favor of women's rights and attending women's rights conventions.
In the early 1850s, Truth met and spent time with Harriet Beecher Stowe, author of Uncle Tom's Cabin, who called her the 'Lybian Sibyl.' Stowe increased Truth's popularity by publishing an article about her in the Atlantic Monthly. In the mid-1850s, Truth moved to Battle Creek, Michigan, where she lived among an enclave of free blacks.
In 1864, Sojourner Truth met with President Abraham Lincoln in the White House in Washington, DC. Later that year, the National Freedman's Relief Association designated her 'counselor to the freed people' at Freedman's Village in Arlington, Virginia - a camp for newly freed slaves established by the U.S. government during the Civil War.
Sojourner Truth commented on the issue of women's suffrage in 1867:
There is a great stir about colored men getting their rights, but not a word about the colored women; and if colored men get their rights, and colored women not theirs, the colored men will be masters over the women, and it will be just as bad as it was before.
In 1875, Sojourner Truth returned to Battle Creek, where she died in 1883.
Harriet Forten Purvis (1810 – 1875)
One of eight children of James and Charlotte Forten - a prominent African American family in Philadelphia - Harriet Forten Purvis became an abolitionist and women's rights activist. She married a light-skinned African American, Robert Purvis from South Carolina in her family's home on September 13, 1831. Like her father, Purvis was a wealthy man. Harriet and Robert worked together on their shared interests, activism, and reform efforts.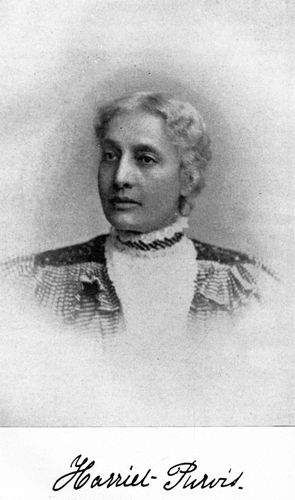 Harriet often played hostess to suffragists and abolitionists, including
William Lloyd Garrison
. They forged deep and lasting friendships with notable black and white reformers. Others in the city rallied against blacks and people who aided refugee slaves, which erupted in race riots and violence in the 1830s. In 1834, dozens of churches and buildings owned by blacks were set on fire.
Image:
Harriet Forten Purvis
In 1850 the eight Purvis children ranged from one to eighteen years of age. They employed servants to manage their children, making it possible for Harriet to actively work on her favorite causes.
In 1854, Harriet and her sister Margaretta were key organizers of the Fifth National Women's Rights Convention in Philadelphia. Harriet's daughter, Hattie became the first African American vice president of the organization. Purvis joined the National Woman Suffrage Association, formed on May 15, 1869, and became a friend of national suffrage leaders
Susan B. Anthony
and
Lucretia Mott
.
In 1873, Robert and Harriet moved to a Mount Vernon neighborhood with daughters Georgianna and Harriet, who were still at home. The family was soon beset by a series of illnesses. Three of their sons died, one from meningitis and the others from tuberculosis. Harriet Forten Purvis also died of tuberculosis June 11, 1875 in Washington, DC, where Robert worked as commissioner of Freedman's Saving Bank.
Mary Ann Shadd (1823-1893)
A veteran suffragist from Washington DC,
Mary Ann Shadd
worked as a journalist, teacher, lawyer, and politician. Born in Wilmington, Delaware, she was probably the first African American suffragist to form a suffrage association.
During the 1850s, Shadd was a leader and spokesperson among the African American refugees who fled to Canada after passage of the Fugitive Slave Act in 1850. In 1853, she founded the Provincial Freeman, a newspaper dedicated to the interests of Blacks in Canada. She was acclaimed as "the first colored woman on the American continent to establish and edit a weekly newspaper." By 1869, she was a widow.
After the American Civil War, she moved to Washington DC and became the first woman student at the newly established Howard University Law School, while teaching in the District of Columbia school system during the day. Like many other pioneers, she intended her legal training to demonstrate women's capacity and to use it in the struggle for female emancipation.
In 1871, Shadd attempted to vote in the District of Columbia but was unsuccessful. Although listed in the Howard law class of 1871-72, She was not permitted to graduate because a DC law denied women's admission to the bar. After a decade, Shadd returned to Howard and received her law degree.
In 1876, Mary Ann Shadd wrote the National Woman Suffrage Association on behalf of ninety-four black women requesting that their names be enrolled in the July 4, 1876 autograph book as signers of the Woman's Declaration of Sentiments, which demanded the immediate enfranchisement of all American women. Unfortunately, their names were not included.
Image:
Bust of Mary Ann Shadd
Freedom Park in Chatham, Ontario, Canada
Created by her great, great grand niece, Ms Lane
She joined the National Woman Suffrage Association and worked with Susan B. Anthony and
Elizabeth Cady Stanton
. Shadd spoke at the 1878 convention of the National Woman Suffrage Association. In her arguments advocating suffrage, she applied the principles of the 14th and 15th Amendments to women as well as men. She called for an amendment to strike the word "male" from the U.S. Constitution.
In her suffrage work, Shadd connected education, women's labor questions, and economic and business development to political empowerment. In 1880, she organized the Colored Women's Progressive Franchise Association in Washington DC, which included an agenda for both political and economic issues.
Elizabeth Piper Ensley (1847-1919)
Elizabeth Piper was born in New Bedford, Massachusetts in 1847 and later studied in Germany and Switzerland. When she returned to United States, she established a circulating library in Boston, Massachusetts and taught in the public schools there. Boston women organized some of the earliest women's suffrage associations, which Elizabeth joined.
In 1882, Elizabeth married fellow teacher Newell Ensley, and they had three children, Roger (1883), Charlotte (1885), and Jean (1888). Sometime between 1885 and 1888, Elizabeth and Newell moved to Washington, DC and joined the faculty of Howard University, a school founded and attended primarily by African Americans.
After a brief stint at Alcorn State University in Mississippi, the couple settled in Denver, Colorado in the mid-1880s. Denver, like most western towns, tolerated blacks by segregating them. Schools, restaurants, and theaters separated blacks from their white counterparts. At the end of the nineteenth century, Denver's black community comprised only two percent of the total population.
Black women banded together to form a network of clubs to advocate for suffrage, temperance, and other reforms. Elizabeth used her contacts with women's clubs in Boston and Washington to join Denver's relief efforts for the poor and the homeless.
In 1887, Newell Ensley's health began to fail, while he was travelling across the country speaking about African American issues. He died in Denver on May 23, 1888. Their daughter Jean died at the age of three months that same year.
Elizabeth Piper Ensley did not allow grief to deter her from working for social reform movements. Denver women had reorganized the state's suffrage organization, the Colorado Non-Partisan Equal Suffrage Association, whose purpose it was to put a women's suffrage amendment on the November 1893 ballot. Ensley joined the campaign and went to work organizing black women and persuading black men to vote for suffrage.
On November 7, 1893, the women's suffrage amendment was approved by the all-male electorate by more than six thousand votes. Ensley then organized the Colorado Colored Women's Republican Club to teach black women why and how to vote. In 1894, Colorado voters elected the first three female state legislators in the United States.
In 1896, Ensley and others - including
Fanny Jackson Coppin
,
Frances Ellen Watkins Harper
,
Charlotte Forten Grimke
, and
Harriet Tubman
- met in Washington, DC to form the National Association of Colored Women (NACW). Ensley was the only black member of the NACW board.
In 1904, Ensley founded the Colorado Association of Colored Women's Clubs, which spearheaded community and educational programs, including the George Washington Carver Day Nursery.
Ensley later founded the Colorado Association of Colored Women's Clubs (NACW) in 1904. She wrote about Colorado's first election in which women voted (in 1894) in the Woman's Era, which was the national publication of the NACW. The NACW led community and educational programs, including the George Washington Carver Day Nursery.
Elizabeth Piper Ensley died in Denver, Colorado in 1919 and is buried in the Riverside Cemetery there.
Colored Women's League
In June 1892 the Colored Women's League was founded in Washington DC to fight for black suffrage, but the black woman's struggle for the vote did not end with the ratification of the Nineteenth Amendment in 1920. During the twentieth century, more and more Black women joined the ranks of suffragists as the movement progressed. In some Southern states, African American women were denied their right to vote until the 1960s.
SOURCES
Wikipedia: Harriet Forten Purvis
Wikipedia: Elizabeth Piper Ensley
Colorado Virtual Library: Elizabeth Piper Ensley
Wikipedia: African American Women's Suffrage Movement
African American Women Leaders in the Suffrage Movement
One Hundred Years toward Women Suffrage Historical Timeline